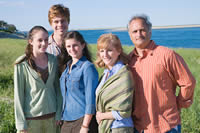 Teenagers' use of drugs, alcohol and tobacco declined significantly in 2016 at rates that are at their lowest since the 1990s, according to the 2016 national Monitoring the Future Study. Binge drinking has fallen by half or more at each grade level since peak rates were reached at the end of the 1990s.
In Washington State, according to the 2016 Healthy Youth Survey, marijuana use among youth has remained steady at levels similar to the national rates since 2010, despite the changing landscape of legalized marijuana in our state.
Although use of marijuana has not changed significantly in the last several years, youth attitudes towards marijuana moved toward greater acceptance, both nationally and in Washington State.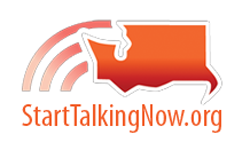 How to Talk to Your Teens About Drugs:
Parents are the primary influence on adolescent behavior, even if it may not always seem that way. Here are some resources that can help parents discuss the use of drugs with their children. Get tips for talking with your kids about making healthy choices at StartTalkingNow.org
National Institute on Drug Abuse (NIDA) Publications for Parents.

Marijuana: Facts Parents Need to Know

Drugs: Shatter the Myths

Preventing Drug Abuse among Children & Adolescents: A Research-Based Guide for Parents, Educators, and Community Leaders



The Partnership at Drugfree.org
A drug abuse prevention, intervention, treatment, and recovery resource, developed to help parents and caregivers effectively address alcohol and drug abuse with their teens and young adults. Includes a Parents Toll-Free Helpline: 1-855-DRUGFREE.



Facts for Families (American Academy of Child & Adolescent Psychiatry)
Information and links to additional resources about parents and substance abuse prevention, specific drugs, adolescent development, school services, mental health disorders, and more.



Washington State Substance Use Data and Statistics (ADAI)
A collection of key reports on drug and alcohol use and problems and Washington state and its 39 counties. Includes the most recent data from the Washington State Healthy Youth Survey on alcohol, drug, and tobacco use in high school students (grades 6, 8, 10, and 12).



Follow the ADAI Clearinghouse: Pinterest | Facebook

Search the Clearinghouse Catalog for materials developed for parents

Are you concerned your teen is using drugs or alcohol?

Washington Recovery Helpline: Offers 24-hour confidential referral and help for substance abuse, problem gambling, and mental health for adults and teens in Washington state. The Helpline can assist family members in finding treatment centers for adults or teens, as well as provide information on community events and lectures that may be useful to parents. 1-866-789-1511